I was so excited when my  Fall Box arrived today because I genuinely had no idea what to expect inside of it. I was really careful not to read any reveals or spoilers because I wanted to see if this box would be a hit or miss. In the past, I've only been happy 50% of the time with the contents of the box, so this box was going to be the deal breaker. If I didn't like most of the products, I would cancel my membership.
The Verdict? I have to say that I was really impressed with this box and it is my favorite from all the previous five boxes I've received thus far. I was even impressed with the items from the CHOICE selections that they picked for me because since I didn't want to know anything about this box, I missed the opportunity to select the items from the Beauty Innovation Boost and Fashion Boost.
Now on to the items… Every member receives a newspaper with cool information about all the products, the makers and the great charity that FabFitFun sponsors each season. This is something I am really supportive of especially when you see successful companies help those in need!
My Favorite items:
A gym bag! Woo Hoo…I love the gym and this will be a great bag to use. It has a cute slogan "Will Workout For Cupcakes" and the bag is a dark blue jean almost black fabric with cream color straps which goes great with any workout outfit! The other bag other members received has the same colors but a different slogan "Gym & Juice" which I wouldn't have been fond of so, I was really happy with my bag. This is definitely an item I can use for a long time.
Now as luck would have it, I read an article a few weeks past about an apple cider vinegar hair rinse that was amazing and I was going crazy looking all over the internet for it. Guess what? It was in the box! Yeah! Imagine my surprise..when I saw dpHue ACV. This was the rinse I was frantically researching because of its benefits "dpHue rinse has all the benefits of ACV, plus it incorporates lavender extract, aloe vera, and argan oil to further nourish and condition hair." FabFitFun Magazine Hello! Doesn't that make you want to go out there and purchase one? I can't wait to try this product out!
The Mer-Sea & Co. Scarf is so cozy and cute and it feels amazing on! I loved this product and I will definitely be using this in the near future…or whenever the cold weather decides to pay us a visit in this HOT fall season! I received the bluish-green scarf (other members got blue, brown or grey) and I can definitely pair it off with any jean and boot combo!
I also received the 2-in-1 Mytagalongs Hot & Cold Gel Pack which comes in extremely handy after hard gym workouts or aging pains…God, I miss being young!
The Jetset Diaries Beanie was another cute item that will get a lot of use this upcoming winter season especially since I was given the black-matches-with-everything one.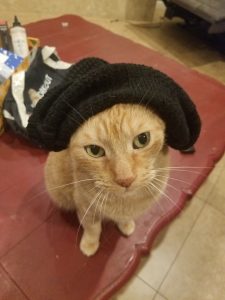 Whish Beauty Renewing Mud Mask is something I am looking forward to using especially since it "mixes bentonite clay with a unique blend of mushroom enzymes, and these two ingredients create a powerful exfoliator and act as a magnet to pull impurities from the skin." FabFitFun Magazine That alone makes me want to open it up and try it on tonight!
Matte Color & Shiny Balm Lip Color is a super cute lip crayon that is creamy and lightweight yet has a matte finish and it's also a balm with a magnetic sealing cap! I got it in Florence Fig which has a beautiful hue.
Cottonelle Fresh Care flushable cleaning cloths ALWAYS come in handy especially when you have little kids and having three little girls…I always love getting these!
The two items that I really wasn't excited about:
Deco Miami Lavender Cuticle Oil – I feel really bad about not liking this item especially because it's from a company based out of the city I called home for most of my life (30 years to be exact). I just don't have a need for this oil and it's really something I won't use but will gladly give it to a girlfriend.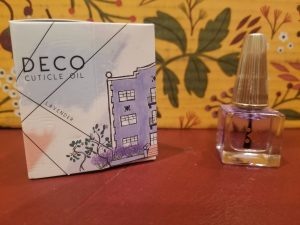 The imm Coxet Wire Heart Ceramic Jewelry Holder is by far my least favorite item in this box. I just don't like it all! I can't give you a concrete reason why but all I can tell you is that when I saw it my smile immediately turned into a frown. Another item I will quickly give as a gift.
To learn more click here : FabFitFun Box