***PLEASE NOTE A VERY IMPORTANT UPDATE ABOUT JEWELRY.YOGA AT THE END OF THIS ARTICLE. – APRIL 2018
If you love to meditate and be one with your chakras, then you probably know that each chakra zone has a stone and color that fuels, balance and regulates it. Since I am trying to learn more about my chakras and how to balance them, I did some research and discovered from several sites fascinating information. For those of you that are not aware of the colors or stones of chakras the following site provided me with great information: http://balance.chakrahealingsounds.com/chakra-colors-stones/
Here is an insert of chakras colors, stones, and location from their site:
Crystals & Chakra Stones Chart
The ROOT CHAKRA'S color is red, other colors associated with the Root Chakra are black, brown, and gray. Chakra stones like garnet, onyx, and red jasper are beneficial.
The NAVEL CHAKRA'S color is orange. Chakra stones like carnelian and orange zincite help to bring the system into balance.
The SOLAR PLEXUS CHAKRA'S color is yellow. Chakra stones like citrine and yellow sapphire are used.
The HEART CHAKRA'S color is green and the secondary color is pink. Chakra stones like rose quartz or green tourmaline are useful.
The THROAT CHAKRA'S color is blue like aqua or turquoise, secondary colors are various shades of lighter blues. Chakra stones like turquoise or blue lace agate balance this chakra.
The BROW CHAKRA'S color is indigo or shades of dark blue. Chakra stones like lapis lazuli or
sodalite compliment this area.
The CROWN CHAKRA'S color is purple, the secondary color is clear or white. Chakra stones like
amethyst or clear quartz are perfect.
Several companies offer packages that contain a stone for each chakra and directions to help you accomplish balance and suppress any negative energy but can wearing a bracelet have the same effect? Well, this truly depends on the wearer and their faith in the healing powers of the stones and bracelets. At first, you must believe and if you are reading this article then you are either a believer or you are intrigued by the subject so the answer would be yes. Chakra jewelry makes it easier for us to balance our chakras without having to put the stones in our pockets, purse or bra. The jewelry is usually very beautiful and the observer usually doesn't know the significance of the jewelry. It can block negative energy and enhance our lives with balance and tranquility. As I research companies that sell or create chakra jewelry, I came across https://jewelry.yoga/. I loved that they had a Monthly Alignment Box and you can get your first box for just $7.99. Since the cost of the first box was reasonable I immediately purchased one. This is the first yoga jewelry box I have ever purchased so I was eagerly awaiting the surprise.
The February envelope arrived with each jewelry enclosed in their own little pouch. The first bracelet contained a mixture of lightly colored stones with a Bodhi Tree of Life Symbol. This bracelet is delicate and extremely beautiful. According to the information card, the Bodhi Tree represents wisdom, strength, and beauty. I was truly so happy with this bracelet!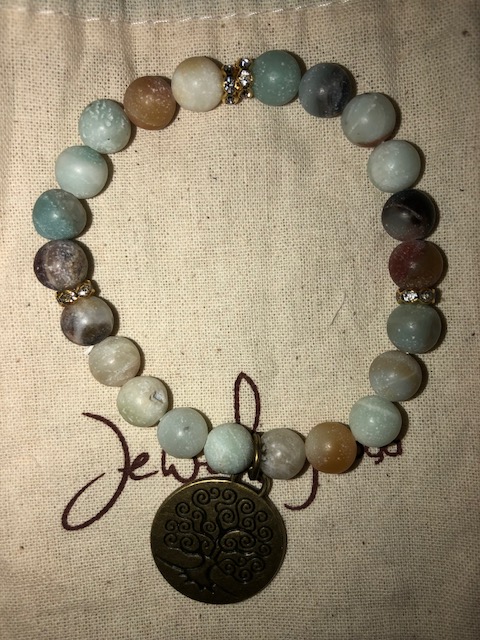 In a second pouch were two bracelets with the most vivid and beautiful turquoise beads with a tiger eye bead and lava beads. These two bracelets were stunning! The turquoise metaphysical properties are:
Regulate throat chakra
Considered the "Master Healer" stone
Repairs spiritual injury, mental strife and previous trauma
Heightens wisdom
The tiger eye bead regulates the Root chakra, calms emotions and spirit and symbolizes rebirth and renewal.
The third pouch contained a 7-piece bohemian tribal ring set with turquoise. "For the woman who dances to the songs in her head, speaks with the rhythm of her heart, and loves from the depths of her soul" The rings are so unique and stunning… I can honestly say that I haven't seen any like them before.
This Alignment Box was definitely a keeper for me. I loved every item and I will definitely keep my subscription to see what march has in store. Their regular monthly prices are $29.99 but the value of the box will always be greater. The February box had a retail price of $49.94 which was definitely a bargain since I only paid $7.99. What do you think of this box?
UPDATE – APRIL 2018 – I ORDERED TWO SEPARATE BOXES FROM JEWELRY.YOGA AND ONE BRACELET FROM EACH BOX BROKE. I WAS TOLD THAT I COULD EXCHANGE THEM BUT I HAD TO PAY FOR SHIPPING TO AND FROM. I ASKED THE COMPANY TO CANCEL MY SUBSCRIPTION SINCE THEY DIDN'T HAVE THE OPTION TO DO SO IN THEIR WEBSITE AND THEY STILL CHARGED ME. I GIVE ENOUGH NOTICE TO CANCEL MY SUBSCRIPTION AND NOT ONLY DID THEY CHARGE ME BUT IMMEDIATELY SEND ME A SHIPPING NOTICE 4 DAYS AFTER MY CANCELATION REQUEST. I WAS TOLD TO RETURN THE NEW BOX (AT MY EXPENSE) BACK TO THE COMPANY AND THEN THEY WOULD REFUND ME THE MONTHLY BOX. IT HAS BEEN A WEEK SINCE THEY RECEIVED MY RETURN AND I HAVE NOT RECEIVED MY REFUND. VERY DISAPPOINTED WITH THIS COMPANY AND I WOULD DEFINITELY NOT RECOMMEND THEM TO OUR READERS.
*Clicking on the above links will redirect you to a different website. All opinions are our own. No free products or compensation was received in exchange for our review.