This past Sunday(3/4/18) we attended the We All Grow Wellness Day event presented by Aveeno Active Naturals in Long Beach, CA and it was so inspiring and amazing. We started the morning with a #GOREDGETFIT yoga class taught by Cristy Marrero and presented by the American Heart Association which included the softest and very cushiony red yoga mats for us to keep. The yoga class was definitely a new style of yoga from the one's Opal and I are used to because it entailed tongue exercises, weird hand jerking movements and several minutes of opening your heart meditation poses. It was definitely a first for both of us but probably not the type of class we will be revisiting anytime soon.
After our yoga class, we took a stroll to see what else the event had to offer. They had sign-ups for complimentary 10-minute massages in the Aveeno Oasis tent, free readings with Nikki Novo, facial skin analysis with Aveeno product recommendation and cooking demos with Jacquie Marquez. The marketplace had a variety of delicious products and brands such as Harmless Harvest Coconut Water, Health-Ade Kombucha,Yourlixir, Flora, California Strawberries, Planned Parenthood, Medella Naturals, Bella Bar and Harper Collins Espanol with a book signing with the author Sharon M. Koenig.
We then attended our first workshop: Find Your Own Balance with Moderator Kika Rocha and Panelists: Andrea Minski, Jacquie Marquez, and Nikki Novo. They gave us a brief history about them, their brand and the triumphs and hardship within their industry, family life and how to find a way to make it work for you. It was great to hear their inspirational stories and to get to know them during the event. They are definitely influencer we now follow and continue to learn from.
Nikki Novo then presented her own workshop on 

Intention-Setting

. 

See below the slides from her workshop.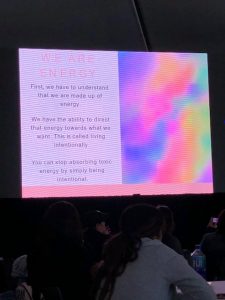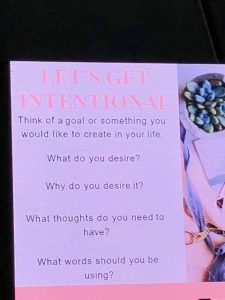 After attending both workshops and stretching our legs, it was already time for lunch. There were many options to choose from and I was pleased to see that they had a Vegan and Vegetarian option as well. Lunch was light, healthy and delicious. After lunch, we stayed for another workshop Wellness Influencers: How To Grow & Monetize Your Message with moderator Valeria Hinojosa and panelists: Annie Vasquez, Carmen Ordonez, Devi Brown, & Gianne Doherty. The panelist explained their brands and the story behind the creation of their products/attire. Each emphasizes a brand that is either plant-based, organic, natural and wellness-related. It was a great workshop with tips and suggestions for bloggers or new brand developers.
The most inspiring and powerful of all the workshops we attended was Christine Gutierrez
Coming Home To Your Self: Embracing Your Feminine Wisdom
. Wow! Is the word I would describe that encaptured her speech. Everyone was mesmerized by her words of wisdom and assertiveness. She was so powerful on that stage, her presence, story, and message were truly compelling, dynamic and influential. I left that workshop wanting to belong to her Diosa Tribe of sisterhood and empowerment. She was truly fascinating and incredible!!!!
Overall this was definitely an empowering event for women to socialize, learn and become aware of amazing brands and people making a difference in our world. We left the event with a goodie bag filled with great Aveeno products, knowledge of new brands and great new social media friends. This was truly a great event and we can't wait to see what next year holds.#Weallgrow #Wellnessday18 #Radianteamimanera