ToyFest West Coast
We recently headed to Vegas to attend the ToyFest West Coast Trade Show at the South Point Casino & Spa and here's the inside scoop. The exhibit hall housed over 600 toy manufacturers showcasing new to the market items as well as popular picks already loved by kids everywhere. Everything from baby discovery toys, to dress up collections, construction sets and creative items were displayed and ready for us to test them out. Having 7 kids of various ages waiting for us back home (hands outstretched) we were no novices when it came to toys; still, some standouts were discovered and we'd love to share them with you here:
Luvsy Princess Blankets- We are all loving our mermaid tails back home and were delighted to see this fresh, new spin on the classic with full-length princess dresses that would make any little girl swoon.
To learn more click here: Luvsy
Soft' N Slo Squishies- Squishable things are everything right now and the vibrant colors, unique characters and slo action of these squishies make every kid (and Mom) want to reach out and touch.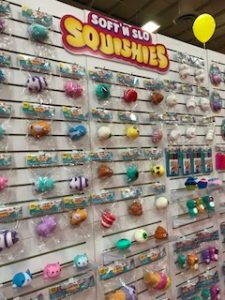 To learn more click here: soft-n-slo squishies
Flush Force- You really can't appreciate the amount of yuck and subsequent delight little boys get until you try one of these for yourself. Add water to the tank and shake it up to reveal a gross little surprise inside the toilet bowl.
To learn more click here: Flush Force
Moonlite Storybook Projector- Is this really making a comeback? I'm so glad to report that the iconic reel that we loved as kids is re-vamped and better than ever. With favorites such as Uni the Unicorn and Goodnight Moon, you can't go wrong.
To learn more click here: Moonlite Storybook Projector
Perfect Petzzz- We legit witnessed several people young and old gravitate towards these realistic, furry pets that actually BREATHE. The soft rise of their chests made us take a second look as we weren't quite sure what we were seeing. Very cool item for the avid animal lover.
To learn more click here: Perfect Petzzz
Stay tuned for a full feature on two of our favorites….Lampy Pets- a unique, lamp/nightlight that's sure to become a kid essential and Little Adventures dress-up play wear- beautiful, quality pretend play garments that combine both comfort and style for your little ones.