What I'm Loving Right Now: VS/PINK Edition
The marketing geniuses over at Victoria's Secret have managed to appeal to widest demographic of females in probably the history of time. Where else can you snatch a rainbow-clad accessory that oh so adorbs AND get some honeymoon gear AND find comfortable and sophisticated satin pajamas? My latest haul includes an assortment of goodies that leans a tad over to the 19-year-old side of me but still…its legit great finds that I think you'll love. Here's what I'm crushing on right now: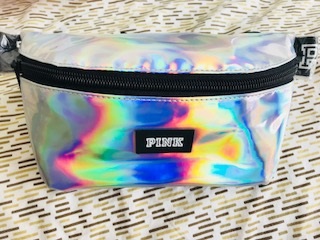 PINK Holographic Fanny Pack– If none of the words in this title make any sort of sense to your mature self, allow me to explain…apparently Holo is still having a moment and I couldn't be happier because the iridescent effect is mesmerizing (don't deny it.) The fanny pack? Ok yes, I was also a little surprised but after a day of wearing this slim-lined retro novelty I've got to admit, it was uber convenient.
PINK Sheet Masks- With an assortment of designs and colors to choose from each featuring its own targeted skin soothing properties- what's not to love? Serious, grown up skincare it's not but it hits all the spots in the fun department so there's that.
PINK Bronze-athon Shimmer Oil- With the lightest feel on your skin ever- this silky oil fully absorbs leaving a light, golden glow to your skin that screams summer. The scent? Reminiscent of a Pina Colada…you'll be transported to Cabo in cutoffs and a neon bikini top if only for one glorious moment.
Victoria's Secret Metallic Glow Lip Shine in Rose Gold- Yes, I am fully aware that the rose gold thing is over but I am on a one women mission to get it back and trending. This high shine lip color is reflective and saturated with the rose gold color I crave. This shade is unbelievably flattering and drenches your lips in show-stopping shine.
Victoria's Secret Bombshell Nights- The perfect blend of floral and woodsy this scent is as sexy as you'd expect while still staying light and sparkling. It's like a New Year's kiss in a bottle, seriously this is the stuff of legend. You won't be disappointed with the scent of this this perfume and the gilded, sparkling bottle on your vanity doesn't hurt either.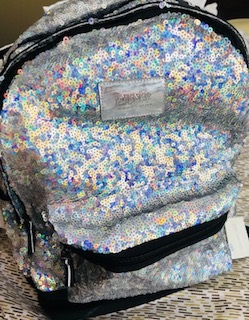 PINK Sequin Backpack- I am no longer in school however the moment I laid eyes on this beauty I was willing to enroll anywhere just to be able to legitimately rock this backpack every day. They didn't even try for sophistication and maturity; that's freaking awesome.
To purchase or to check out more click here:
https://www.victoriassecret.com/pink