Greenjoy Pressed Salad Bars
Can you imagine putting all your favorite salad ingredients into a bar and taking it on the go? Well, that is exactly what one company named Greenjoy did. Now I know what you are thinking, how did they get all the ingredients I love like broccoli, tomatoes, onions, garbanzo, raisins, croutons, and dressing in a to-go bar? That is not what Greenjoy did, the salad you are referring to is best enjoyed as an actual salad and not a go-anywhere snack. What Greenjoy did is make a pressed salad bar with two servings of veggies. Imagine a bar made of beets and greens or another one made with pomegranate and greens and if you love cacao, there's one for you too; cacao and greens! Another cool thing that the brand Greenjoy is doing is that they take part in the Ugly Food Movement by utilizing the imperfect vegetables that otherwise would be wasted because it is not aesthetically perfect for consumption.
So, how does it taste? What does it look like? Imagine those fruit leathers the kids love eating, that's exactly what it looks like. The taste is unique and different but not in a bad way. It's unique because I have never eaten my greens in a pressed bar and it took a little getting used to. Now, I love taking them with me as a healthy snack alternative, even my kids take bites out of them. Greenjoy also makes Superfood Dressings and Marinades with fascinating ingredients. Here are a few of the dressing selections: Turmeric Maple, Orange Poppy Seed, Ginger Almond, Savory Pumpkin Seed and a few others. All of their dressings are gluten free, contain no additives, preservatives, gums, emulsifiers and no processing. They also have three Superfood Salad Mixers (Classic Garlic, Cinamon Coconut & Spicy Rosemary) to add a little flavor to your salads.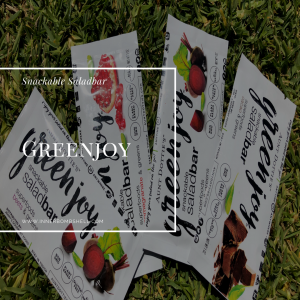 Greenjoy provided Inner Bombshell with samples of their pressed salad bar for our honest review. All opinions are our own. Clicking on the link above will redirect you to Greenjoy.