When it comes to scents, I am what some might call a freak. I love a variety of fragrances, especially vanilla. Something about that particular scent just puts me in a calming and blissful state of mind. However, I also love scents in general from lavender to eucalyptus to gardenia to frankly, anything that smells good. In my house, I have a variety of soy candles, diffuser, wall scented plug-ins and incense (don't worry, I don't turn them all on at the same time 😉 I guess I want my guest to feel like they have entered a utopia of different essences creating a calming and euphoric mood. When you walk in its as though all your troubles are left outside the door and the fragrance in the house allows you to reminisce about wonderful memories.
Since I especially love oils, I constantly search for great diffusers to use in the house. I have gotten great deals at Amazon before but those diffusers quickly stop functioning properly after a few months of use. You think you are getting a great bargain but in the end, you end up with cheap water-based oils and a crappy cheaply-made diffuser (waste of money). During my search for high-quality diffusers, I came across the Gurunanda brand. First off I have to mention how incredible their reviews are, everyone gives them five stars and they all rave about the products. I was quickly mesmerized by the selection of diffusers and essential oils. I love how the company has a 30-day money back guarantee and 100% satisfaction guarantee policy and call their products From Farm To You (100% pure and natural directly from the farm). Now, how many companies offer that?
I quickly pursued the site to see what they offered and let's just say they offer plenty: diffusers, essential oils, exotic roll-ons, carrier oils, accessories, and gift cards. Some of their top sellers include BREATH EASY oil, FRANKINCENSE oil, ZEN BLUETOOTH SPEAKER DIFFUSER WITH ESSENTIAL OILS SET, MINI TREE USB DIFFUSER + 2 BONUS OILS and so much more. They truly have an amazing selection, it's hard deciding what to buy. Gurunanda provided Inner Bombshell with their Eternity Ultrasonic Essential Oil Diffuser for us to review and all I can say is AMAZING!!! OMG! I love it. First, the diffuser is so pretty as you can see in the picture below and has color changing LED light. It came with two bonus essential oils Patchouli & Peppermint (both premium grade oils). It has an auto shut off at low water levels and runs up to 4 hours. The other amazing thing about this diffuser is that it is ultrasonic "Gurunanda aromatherapy uses silent, ultrasonic waves to diffuse water with your choice of essential oil without generating heat so that the quality of the oil properties is neither damaged nor compromised."
I really can't stop raving about this diffuser and their essential oils. You have to try it yourself to see how great Gurunanda products are. And lucky for you, we have a 20% promo code INNERBOMBSHELL20 you can use on their website https://www.gurunanda.com/ They definitely get 5 stars from me!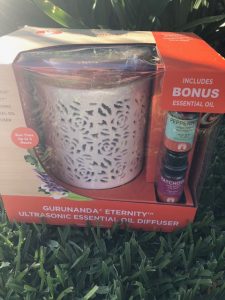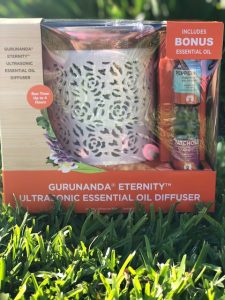 Gurunanda provided Inner Bombshell with an Eternity Diffuser for our honest review. All opinions are our own. Clicking on the link above will redirect you to Gurunanda website.