I am always looking for something, anything that can help me in my wellness and spiritual path. During this search, I came across the Spiritual Guru Box. It is "a monthly subscription box of spiritually inspired items specifically picked to enhance your spiritual experience..." I was immediately interested but a little apprehensive when I saw the $49.95 monthly subscription cost. I've had a few experiences with boxes that are over fifty dollars a month and have dollar store items inside of it. Let me tell you that this was NOT the case with this spiritual box. I was highly impressed with the items and their quality. This box is definitely worth the price tag especially since the total value of the June box was $171.
First, let's talk a little bit about the actual graphics of the box and how enticing they are…super cute and very spiritual. If I were to see the box in the store, I would immediately want to open it to find out what lays inside. Now, "what is actually inside?" you ask…
A handmade 108 Mala Bead Picasso Jasper Stone Necklace. This item alone is worth $80 and it is absolutely stunning. It is extremely well-made and the stones are beautiful and of great quality. There is a Budha's head uniting the beads to the tassel. I am seriously loving this necklace and I can't wait to use it during my meditation as I count my mantra. This was definitely my favorite item inside the box.
My second favorite item was a Clear Crystal Quartz Point with retail value is $20. This is not your typical little stone that measures a two mm, my stone actually measures two and a half inches. It is in its natural state (rough) and so pretty. "Clear Crystal Quartz is best known for energy amplifications, programmability, and memory. "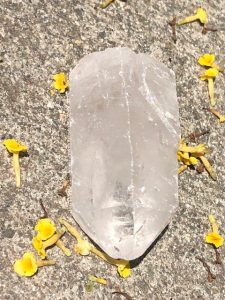 My third favorite item is a book by Jennifer O'Neill Pursuit Of Happiness retail value $11. I love when a box includes a book because very few boxes actually do (expect book subscription boxes 😉 I can't give you my honest review on the actual book because I haven't had a chance to read it but the title alone is something I would want to read. "This book is a mini-course outlining 21 spiritual rules to finding success when you are in "The Pursuit of Happiness." This description makes me want to stop writing this article and start reading her book.
A handmade Leather OM Journal is truly stunning to look at and very well made. The reason I can't say that I love it is that it is made of leather and you all know that I only buy vegan leather items. However, for those of you that are not like me, this journal is very classy and the details are very intricate. It is made of 100% cotton recycled paper, tree-free and eco-friendly. The journals are handmade by skilled artisans from India and have hand stitched binding. You can honestly tell that they put a lot of thought and effort into making this product and why it is retailed at $45.
The last product inside the box was a Handmade Eco-Friendly OM Tote Bag with a retail value of $15. They are handmade, hand-printed, eco-friendly and 100% cotton. The bag is black and features the AUM symbol in gold along with other symbols I am not too familiar with. The bag actually has a good size and can be used at the grocery store.
Inside the box, there was also an "intuitively pulled" oracle card. My card is Sulis – Bodies of Water. It is telling me to "spend time near water, such as a lake, river, or the ocean, to recharge your batteries." I love the water so I know that this card definitely resonates with me.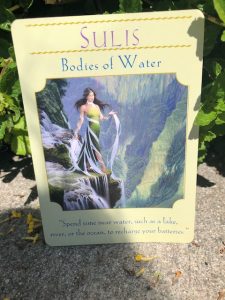 There was also a Spiritual Guru sticker, coupon card and a "good vibes" card. I am seriously impressed with the content and quality of this box. I have purchased some of the other more popular spiritual/yoga/wellness boxes in the past and none of them have impressed me as much as this one has. I totally think it is worth the subscription box and I look forward to getting my July surprise. If you want to subscribe or find out more information about this amazing box, go to https://spiritualgurubox.com/
*Spiritual Guru provided Inner Bombshell with a box for review purposes only. All opinions are our own. Clicking on the link above will redirect you to their website.*