I am always looking for unique companies that offer a variety of apothecary items and during my search, I discovered the Twin Star Community Apothecary box. I was immediately intrigued with their box because it includes "an assortment of 6 herbal remedies including herb teas, oils, balms, bath blends, elixirs, roll-ons, spritzers, and smudge. All of the herbs used in our monthly subscription box are ethically wildcrafted or organically grown by loving herbalists. All formulas are custom blended in our Herbal Apothecary in NW Connecticut." This is a brand new subscription box and I was really excited when I received the box and noticed the items it contained.
Full Moon Herbal Tea – this tea contains nettle, red raspberry, lemon balm, milky oats, rosehips and rose petals. I had this tea hot and I also had it over ice and both of them were delicious. I prefer cold tea during these hot California summer days and this was a refreshing and delicious tasting tea. This could definitely be a tea you would find in a popular tea store. I was very impressed with the quality and taste.
Calendula After Bath Oil – calendula officinalis – infused with avocado oil, ylang-ylang essential oil & self-heal flower essence. This oil was not sticky or too greasy but it did leave my skin feeling soft and hydrated. It also had absolutely no scent which is pretty cool since most avocado oils contain a slight unappealing scent to them.
Lavender Bath Fizz – sodium bicarbinate, citric acid, epsom salt, cornstarch, lavandula officinalis flowers, organic olive oil, water and essential oil. I loved how this bath fizz smelled and relaxed my aching muscles.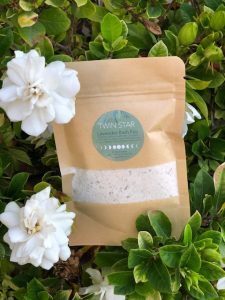 Dandelion Muscle Rub – taraxacum officinale flowers infused in extra virgin olive oil, beeswax, lavender essential oils, dandelion flower essence. What was surprising about this muscle rub is the lack of scent. Most muscle relaxers have a very potent menthol smell but not this one. It actually helps relieve sore muscles without the overpowering unappealing scent. I really liked that it wasn't very sticky and it immediately disappeared when I rubbed into my skin.
Rescue Red Rose – rose centifolia, vegetable glycerin, water, alcohol, and five flower formula essence. Feeling down, depressed or just plain sad, a few drops of this rose oil scent will remind you of better days.
Loving Balance – A Divine Love Spritzer – distilled water, essential oil blend, beech, holly, chicory, & red chestnut flower essences. This is a powerful spray; it is so aromatic. You can actually smell all the different herbs and flowers mixed together. Words can not describe how uplifting this scent is…amazing!
Since this is the first subscription box for Twin Star Community Apothecary, I wanted to get a better understanding of the uses of each product by asking the creators a set of questions. Please read below our Q & A:
What made you start a subscription box?

We have done something similar in the past few years. We have a yearly Herbal CSA (Community Shared Apothecary), which is a seasonal bundle of Seasonal Fresh Herbs, Remedies & Recipes hand harvested and crafted by Twin Star students and staff & White Pine Community Farm. We had so much fun and positive feedback from these quarterly boxes that we decided to jump into subscription boxes!

What can people expect to receive monthly from your subscription box?

Each month you will receive an assortment of 6 herbal remedies including herb teas, oils, balms, bath blends, elixirs, roll-ons, spritzers and smudge. All of the herbs used in our monthly subscription box are ethically wildcrafted or organically grown by loving herbalists. All formulas are custom blended in our Herbal Apothecary in NW Connecticut.

Tell us a little bit about your Twin Star Tribe?

Twin Star offers community classes and workshops on herbal medicine, holistic health, and natural healing. We are located in the beautiful hills of Western Connecticut where Lupo Passero, Herbalist, Educator and Flower Essence Practitioner shares her teachings both nationally and throughout the surrounding area. Twin Star Herbal Education offers a myriad of classes ranging from half day workshops to 14 month long herbal intensives. Lupo and friends cover a variety of topics including herbal medicine, flower essence therapy, energy healing, yoga and holistic health, astrology, Ayurveda and more. Our sweet and comprehensive Twin Star Community Apothecary, located just a few doors down from our school, offers a variety of hand-crafted herbal remedies, teas, bulk herbs, and supplies, as well as hosts a beautiful array of goods from local artisans and herbalists

I love the combination of your Full Moon Tea. Tell us a little bit about what it has and what are the best uses for it (i.e. calming, destresser, pure enjoyment, detoxify)
The Full Moon tea was specifically formulated as a tonic tea with herbs traditionally used to help nourish and support the female body, though it's both delicious and nutritious for anyone! It's one of our personal favorites.

I love the consistency of your Lavender Bath Fizz, tell us a little bit more about it.

The Lavender Bath fizz is a lovely way to enjoy a nice relaxing bath. All it's ingredients may help sooth the body and calm the mind with its aromatic pleasures. I love the way it fizzes and bubbles, much like a bath bomb!

Tell me a little bit more of your Loving Balance.

This is one of our tried and true aromatherapy sprays. It is infused with a delightful blend of floral & heart-centered essential oils, and combined with heart supporting flower essences. Flower essences are remedies that help support our energetic and emotional bodies. I love using this spray as a daily body and room spray. Uplifting and loving for sure.

What are the uses and benefits of Rescue Red Rose?

This divine herbal elixir is just as beautiful as it is delicious! I love the way the red rose color really shines through this magical and mighty little bottle. I use this blend on the daily and is one of the most popular remedies I recommend because to me rose is just pure love, and we could all use a little bit more love, all the time! Just a few drops help me in times of stress, a hurting heart, or when I'm just feeling down. A reminder of the sweetness in life, this Rescue Red Rose is complimented with a five flower essence formula to help support us in times of emotional unease.

What are the benefits of the Calendula After Bath?

This nourishing calendula infused oil is a luxurious way to feed your skin after showering or bathing. It's sweet smell and delightful moisturizing texture feels wonderful on the body and can also be added to your favorite bathing rituals.

What sets your brand apart from others out in the market?

Our Twin Star brand focuses on bringing the plants to the people! We love to educate people about plants, their traditional uses, and how you may use them for your health, well-being and pleasure! All of our products are hand-crafted with love and care, from the herbs we grow and ethically wildcraft, to the ingredients we choose to to blend and use, and the unique and magical recipes we create. We hope our passion for the plants shines through our goods and sparks an inspiration within those who use them to connect back to nature

How can our readers subscribe to your box? Options for subscriptions?

and of course in our store from Twin Star Community Apothecary located at 57 Bank Street, New Milford, CT
Well, there you have all the information you need to know about this amazing new apothecary box. Let me know if you liked it as much as I did.
InnerBombshell received a sample box for our honest review of the products. All opinions are our own. Clicking on the links above will redirect you to the company's website.