Okay, we all know that I have overly processed, weak, dry and damaged strands. Even if you don't know me or have ever seen me in person, my picture speaks a thousand words. When describing my hair, I try not to use the word "hate" even though that is exactly how I feel about it. It doesn't grow and looks lifeless and has absolutely no movement or body. It just hangs from my scalp like a cat holding on to dear life. But thanks to HAU, I am starting to not only see a difference but feel more positive about my hair.
I discovered HAU while doing research looking for options that would bring some life into my strands. I read a few magazine article and blogs recommending the product and I knew that I had to give it a try. It comes in a box of 5 caps/bonnets/sheet masks (everyone calls them by a different name) and it is recommended that you use two of the treatments the first week (especially if your hair is damaged). Then you would just use one bonnet a week thereafter. You can even use the bonnet treatment before coloring to avoid any excess damage to your hair and it is actually great to use after your color to hold and maintain your new look. These are the steps for use of this product:
HAU – Prep the cap:
1. Tear open white pouch
2. Take out the cap, unfold, and lie flat
3. Take your hand as a blade and smooth the serum from the top of the cap, down toward the bottom sealed opening, to evenly distribute the product
4. Peel the back of the sticker up slightly (sticker peels from the inside out (left to right))
5. Shampoo as regular but do not use conditioner
6. Put on the cap over your wet hair and scalp and wait the recommended time frame of 20-60 minutes.
7. Reap the benefits of having beautiful and healthy hair.
My overall experience using HAU was very significant. I felt my hair stronger, thicker and appeared to have more body. My hair looks healthier than ever before (even after bleaching). I really have to say that this is a miracle product and you will definitely see a difference even after your first cap treatment. I can't wait to see these hair masks sold at our favorite popular stores. I hope Sephora is reading…and ordering…and soon to be selling….hint, hint.
For now, you can definitely purchase these amazing HAU packs at HAU. If you want free shipping, use promo code: Innerbombshell at check out.
"THIS PRODUCT IS FOR ANYONE WHO WANTS TO UPGRADE THEIR HAIR CONDITION AND PRACTICE A GOOD HAIR CARE ROUTINE. YOUR HAIR WILL LOOK HEALTHIER THAN IT EVER HAS ONCE YOU KNOW HAU (pronounced HOW)."
This is what my hair looked like after using 1 hair mask treatment.
This is what my hair looked like after using 3 hair mask treatments.

This is what my hair looked like after using all 5 hair masks.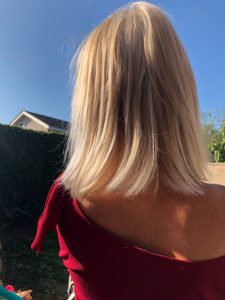 This is just my cat in a perfect photo-op!
HAU provided Inner Bombshell with a hair pack for our honest review of the product. Pictures provide real results from using the product. All opinions are our own. Clicking on the link above will redirect you to HAU website.