I love mystery boxes, I mean who doesn't? And when I heard that Too Faced (one of my favorite brands) offered one, I quickly ordered it. The anticipation of its arrival was like a kid waiting for Christmas morning. What will this mystery box contain? Will it have their infamous "Better Than Sex" mascara? If you have been out of the loop and have no knowledge of this mascara (highly doubtful) check out my article Too Faced Mascara
When it finally arrived, I grabbed a cup of coffee and eagerly opened up the box. I know you are all just dying to find out what was inside. So, here goes:
Chocolate Bon Bons, nope, not the ones you eat but their famous eyeshadow palettes. This palette cost $49 which makes this $42 mystery box a definite winner. The colors are not only beautiful but they are also "infused with antioxidant-rich cocoa powder." Talk about innovative!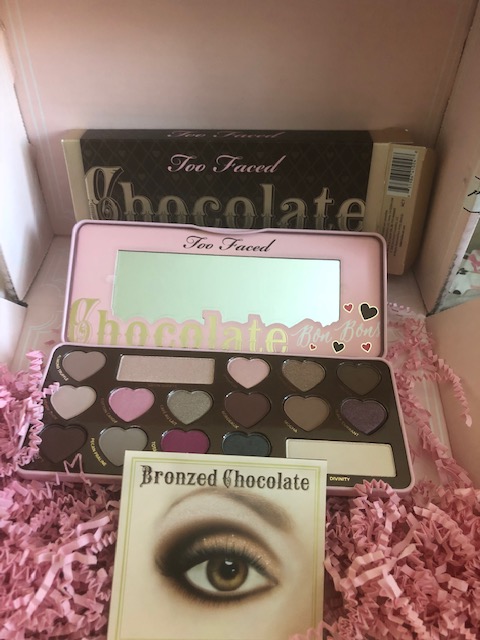 Melted Matte – Liquified Matte Long Wear Lipstick $21 – color: Granny Pants. This is probably my least favorite item in the box because of the color. This mauve-like color doesn't look great with my complexion but I do love the angled tip applicator.
"Our innovative formula glides over lips like a gloss but dries to an ultra-matte opaque finish. Infused with a no-sting lip plumper and filler for color that always looks rich, full, and kissable."
Melted – Liquified Long Wear Lipstick $21 – color: Chihuahua. I love this lipstick and its angled velvet tip. The color is the same as my lip color which makes "natural" days a little more glossy.
"Comfortably coats lips in bursts of intense color that lasts for hours."
Sketch Marker – Liquid Art Eyeliner $20 – color: Deep Navy Blue. I LOVE colored eyeliner, however, this blue looks almost black. I still do love this liquid eyeliner and I am sure it will make amazing cat eyes.
"Advanced liquid eyeliner inspired by Japanese calligraphy pens creates smooth, vivid, waterproof lines. The flexible tip allows you to effortlessly create paintbrush-like strokes for daytime to dramatic cat eyes and everything in between."
A mini (0.17 oz) Better Than Sex mascara. Need I say more? LOVE IT!
It also included samples (which I selected) of Dew You – Full Coverage Fresh Glow Foundation and Peach Perfect – Comfort Matte Foundation.
All in all, this was an amazing Mystery Box from Too Faced. A value of $111 not including the cost of the mini mascara for only $42! Talk about incredible!! I really can't wait to order next years Mystery Box and see what this cruelty-free brand has in store for us!