So you've always wanted to add more veggies to your plate? Well, now you can easily add a variety of delicious veggies like butternut, beets, yellow squash, sweet potatoes and more. Thanks to Cece's Veggie Co. you can have your veggies as rice and/or noodles.
Cece's Veggie Company started out when a dad became creative in finding ways that his gluten-free daughter could eat her veggies. What I love about Cece's is that it simplifies the process for you. I am one of those rare moms whose children actually love veggies and fruits. But for the norm, this isn't the case. That's where Cece's Veggie comes in. It allows you to provide veggies in a fun and different kind of way. Little spirals of butternut or sweet potatoes. Rice options like broccoli, cauliflower or veggie medley make it an easy dinner option.
"At Cece's® Veggie Co., we believe in simple nutrition. That's why we make vegetables with nothing to hide. You can eat 'em raw, sautéed as an alternative to pasta, sauced, sidelined, in a salad, or as a soup. Our organic spiraled and riced veggies are compliant with every possible diet — unless for some weird reason your diet says no veggies at all! Plus, we make veggies fun for adults and kids with unique textures and shapes convenient for any recipe. Less prep work. Less clean up. More veggies. More fun. Cece's® Veggie Co. Simple but twisted.®"
I had the pleasure of testing out two really delicious options: Organic Sweet Potato Noodled and Organic Broccoli Riced.
I cooked the Broccoli Riced in a pan and I sauteed it with garlic, onions and some tiny chopped peppers. The outcome was a total success! Everyone loved the texture and taste. It was also a nice change from the traditional brown or white rice options.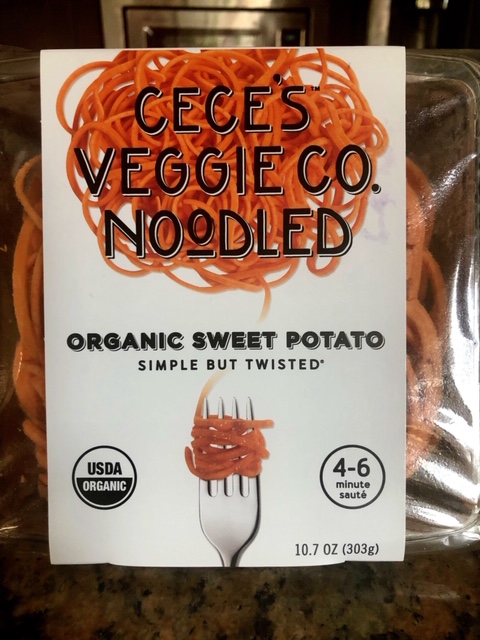 I love sweet potatoes and got a little creative while prepping this one. I sauteed it in a pan with lots of different cut-up veggies and I mixed them with my own vegan pesto sauce recipe. Let's just say it tasted AMAZING!!! This will be my new staple for our Thanksgiving dinner.
I loved all the options that Cece's Veggies have to offer. They even have an Organic Butternut Vegan Shells and Cheez but my local store didn't carry it. You have to give Cece's a try and see how simple they've made eating more veggies. https://cecesveggieco.com/
Cece's Veggies provided Inner Bombshell with coupons for review of their products. All opinions are our own. Clicking on the link above will redirect you to their site.