Catered Fit Meal Delivery
I know my way around meal delivery services, anything that can streamline the process of eating well on a busy schedule is worth looking into. I first took note of Catered Fit Meal Delivery when my neighbor…an uber fit, marathoner was constantly getting deliveries in these cool, black cooler bags. I researched Catered Fit and found tons of great reviews from fitness enthusiasts and regular busy people who swear by the meals, so I of course had to check them out for myself. What I found was my absolute new favorite subscription service of prepared, individual meals that hit all the checkmarks.
I won't go into details about the sign-up process as it is simple and streamlined and like most others easy to sign up and cancel and/or modify your deliveries should you want to. I will say that the daily meal selection was exceptionally detailed and offered several selections for their Breakfast, Lunch, Dinner, Snacks and Drinks. Usually, I must choose between one or two items but in this case, I sat there for a good 15 minutes mulling through the drool-worthy selections and debating the merits of delectable Peach Pancakes over a Savory Greek Omelet.
Once selected, my entrees arrived still cold (no small feat in Southern California 110-degree weather) on my selected delivery day and neatly packaged with clear labels. I chose the classic plan for women which takes into consideration average caloric and nutritional needs. They also offer Paleo, Meatless, Men's and Combination entrees for those with special dietary needs. I did a quick macro/micro nutrient analysis on some of the entrees and I was excited to learn that the nutritional density far exceeded my recommendations as a Holistic Health Coach.
Aside from the fantastic nutritional profile and metabolism boosting stats the most important thing to me is taste. Hands down this is what trumps convenience and yes, even nutrition as there is no reason to compromise taste when we have access to so many amazing ingredients in the marketplace. Here's my honest feedback on the entrees I tried:
Greek Omelet with Seasonal Fruit Cup: What an amazing way to start my day. After my black coffee with unsweetened almond milk I crave something savory and this absolutely hit.the.spot! The fresh fruit was just the right portion. There were plump blueberries, ripe melon and juicy cantaloupe. The omelet was generously sized with the perfect egg texture (no small feat when you reheat food) and rich tomatoes, spinach and delectable saltiness from the feta cheese…perfection!
BBQ Chicken Salad- Savory grilled chicken on top of crisp mixed greens, crunchy tortilla strips, black beans, tomatoes, red onion, charred corn and the most incredible Avocado Ranch Dressing that had to be licked clean. Perfectly filling yet refreshing on these hot days.
Turmeric Tea Latte- A surprising and welcome addition to the daily menu meant for that mid-afternoon slump when we'd normally reach for that sugary frozen coffee. This latte was creamy, rich and totally hit the spot.
Roasted Red Pepper Hummus with Grilled Pita Bread- Everything is in the details- not only was this hummus light and flavorable, with an airy whipped texture but it took it to the next level with the grilled pita triangles which made this typically ho-hum snack elevate to bistro level. I (almost) need a chilled glass of Pinot Grigio to enjoy this but I controlled myself.
Chocolate Chip Cookies- Holy freaking $h!t I don't have a sweet tooth buy my God these were AMAZING! Chewy yet light, sweet yet slightly savory. I could taste the perfect richness of the butter, just a touch of salt and they were loaded with high quality chocolate chips. If there was any doubt I would order again this sealed the deal.
Taco Chicken Salad- Crunchy and refreshing, this citrus infused snackable champ kept me full between meals with the perfect amount of savory chicken, crunchy cabbage and light dressing. A winner.
Panko Breaded Chicken Tenders with Sweet Potatoes and Green Beans- Perfectly crispy tenders that were juicy and flavorful with a carefully selected side of roasted sweet potatoes and crisp green beans that were expertly seasoned. I was able to split this generous portion into two mini meals because it was deliciously filling and a perfect end to my day.
Bottom line, this meal subscription service is a hit. The portions are generous, the delivery on point, the menu selections subpar, the texture hits the spot and the taste is incredible. Absolutely does not taste like you are "eating light" yet the nutritional profile is impressive and well rounded. A winner and my new favorite.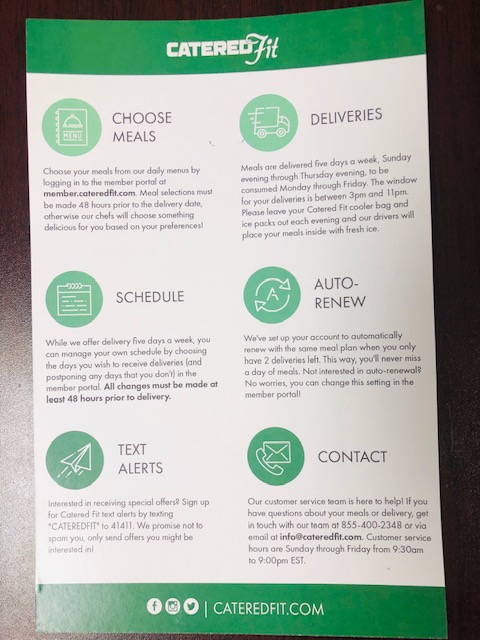 To learn more or to see what's on this week's menu click here:
https://www.cateredfit.com/next-week-menu.html?utm_source=inner-bombshell&utm_medium=blog&utm_campaign=inner-bombshell
*Innerbombshell was provided one day of complimentary meals in exchange for an honest review. All opinions our own.