Well Within Planted In Beauty: A Vegan Supplement For Your Skin
*Some of the links below are affiliate links, meaning at no additional cost to you, InnerBombshell may earn a commission if you make a purchase. What you read below is our honest opinions of the products/brands.
I LOVE the plant-based brand Well Within Planted In Beauty. They have a variety of products to meet your vegan skincare beauty needs. I wrote an article when I first discovered the brand and tested some of their amazing products. Boy, was I impressed! I could see and feel a difference in my skin. Thanks to the founders of the company Lynne and Renee, they were kind enough to send me their supplements to test out. I was truly so excited when I received them because I had read some amazing reviews about them.
SAVE 20% OFF All Orders $50+ with the code: INNERBOMBSHELL20
SAVE 30% OFF All Orders $100+ with the code: INNERBOMBSHELL30
Let's start with the Antioxidant Blend. This capsule (one a day) contains biotin, zinc, selenium, copper, MegaNatural grape, broccoli and a certified proprietary blend of horsetail, raspberry and rose hips. All the amazing ingredients needed for glowing skin.
"PROTECT + PURIFY + FIRM ANTIOXIDANT BLEND is a powder form of carefully selected, certified, natural and organic ingredients that nourish and enhance the skin from the inside, promoting a healthy skin balance.
Assists with collagen production, increasing skin's elasticity and flexibility.
It helps with the production of glutathione, an antioxidant significant for overall health and wellness.
Protects cells from free radical damage.
It improves skin quality as it supports detoxification and enhances the body's capacity to rid itself of pollutants.
Supports skin cell renewal and overall skin health.
Sustainably formulated with the highest quality, purity and cruelty-free standards.
100% vegan, non-GMO, gluten-free."
The second supplement is their Berry Oil Blend is a soft gel (two a day) that contains Ceratiq phytoceramides which are known to clinically demonstrate wrinkle reduction, hydration and radiance enhancement. "ceratiq® Phytoceramides is a clinically studied, breakthrough beauty-from-within ingredient. Studies on ceratiq support a range of benefits associated with youthful skin – including improved overall skin health, hydration, reduced appearance of wrinkles, increased elasticity, suppleness and a more radiant appearance. A plant-based source of ceramides – a class of lipids known as 'the skin's natural sealant' – it can add compelling value to a wide range of beauty-from-within formulations." Ceratiq
It also contains a Berry Oil Blend of blackcurrant, cranberry, and seabuckthorn.
"GLOW + REPLENISH + BALANCE BERRY OIL BLEND is a soft gel housing a unique oil-based blend of lipid-rich antioxidants, berry oils and phytoceramides that help renew, protect and replenish the skin's barrier for a naturally luminous complexion.
It helps maintain the balance of moisture, softness, and suppleness in the skin.
Increases moisture retention and strengthens the skin barrier.
Brightens and revitalizes skin complexion.
Sustainably formulated with the highest quality, purity and cruelty-free standards.
100% vegan, non-GMO, gluten-free."
Just from researching the ingredients listed on these supplements, I knew I was in for a great test run. I tested the two products for 30 days and I am overwhelmed with my experience. I am not sure if it had to do with a lack of nutrients in my body from my regular diet or just how amazing these supplements are but they made me feel great. My skin had an amazing glow to it especially during week three of the trial. I am a believer that with proper diet, exercise and supplementation, we can all achieve glowing and beautiful skin. I feel great, my skin looks amazing and I am hooked. I will definitely be adding these supplements to my daily routine. If you would like to find out more information or where to purchase them, go to *Well Within Beauty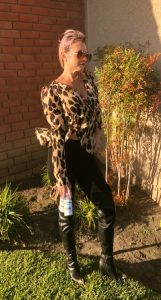 Well Within Planted In Beauty provided Inner Bombshell with products to test. All opinions are our own. Clicking on the links above will redirect you to specified sites.