*Some of the links below are affiliate links, meaning at no additional cost to you, InnerBombshell may earn a commision if you make a purchase. What you read below is our honest opinions of the products/brands.
I am so excited to be unboxing another amazing box by Good Being. This July box is packed with curated picks from standout brands that I know you'll love. For those that don't really know much about Good Being, they are a subscription box offering a variety of healthy beauty and natural wellness products. You can choose between two different subscription options: Beauty: All beauty, all the time, featuring specialized facial, body & hair care + makeup, nail color, fragrance, beauty elixirs, targeted serums, beauty accessories & more. Lifestyle: The perfect combo of beauty, wellness & lifestyle, from basic beauty & personal care to makeup, supplements, superfoods & non-toxic living goods. For either selection, you can choose the standard box at $24.95 a month (free shipping) which provides:
4-5 items per month, a mix of sizes that may include a full size and/or travel sizes (good for 5-15 uses) along with deluxe samples (3-5 uses) and standard samples (1-3 uses). Items will vary month to month and member to member.
Average Value: $45-$65 (can be higher). Will vary month to month and member to member.
Pick Your Product – Choose 1-2 items for your box from a selection of products each month.
Or you can choose the mini box at $9.95 a month (free shipping) which provides:
2 items per month, either 2 travel size (good for 5-10 uses), or a full size and a deluxe sample.
Average value $15-$20. Will vary month to month and member to member.
To become a subscription box member of Good Being go to * Good Being Subscription Box
Now for the good part- when I opened my July box the first thing I noticed was a beautifully designed card with the quote, "Walk as if you are kissing the Earth with your feet." – Thich Nhat Hanh. On the flip side contained member only special offers with promo codes ranging from 10%-30% off and free shipping from brands in the box as well as carefully selected companies that I felt were exceptional. The products in my box were:
Lauren B. Beauty Nail Enamel in the color Sunset Tower. Full size .5 oz – $18.00
I had first discovered this amazing brand when I attended one of Sophie Uliano's weekend retreats that showcased vegan and cruelty-free brands. I actually had a manicure where they used only Lauren B products and I quickly became a fan. I was so excited to see this product inside the box and the color is just so pretty, classy and very natural. I really recommend this brand and you can learn more about them at https://www.laurenbbeauty.com/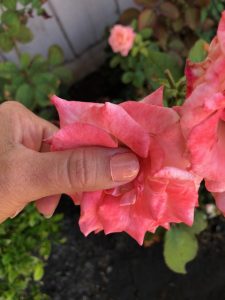 B True Beauty – All Natural Eyelash Enhancer – Full size – 10 ml – $59.00
Wow, can we talk a little bit about the actual mascara tube…amazing! It's like the most adorable wooden tube I've ever seen in a mascara. And for the secret inside the tube, imagine 100% Certified Organic ingredients like argan, vitamin E and aloe vera. It nourishes and accelerates lash growth and penetrates the root to help stimulate keratin and lengthen, thicken and fortify lashes. What more can you ask a product to do…definitely worth the cost. https://www.btruebeauty.com/
Curandera Remedies – Amber Body Oil Potion – 1 oz – $3.75
Let's start by saying that I love the smell of Amber so this was a going to be a favorite right from the start. The scent was faint but so delicious. The dry oil penetrates immediately into the skin leaving you with soft, subtle and moisturized skin. This was a great new discovery and I will definitely be purchasing this product as soon as I run out. https://squareup.com/market/curanderaremedies/
Bella Aura Skincare – Night Cellular Renewal – .35 Fl Oz – $37.00
I wish I could've tested the full size of this product because it felt great on my skin (it was a great teaser). This cream is supposed to improve skin hydration, firmness, elasticity, and smoothness. I didn't have enough cream to test the validity of the product but I can assure you that I loved the way it felt. https://www.bellaaura.com/
Gia Minerals Natural Finish Setting Powder– Setting Veil Petal 3g/0.11 oz -$9.60
"A silky, lightweight blend that aids in oil absorption, minimizes lines & softens complexion with a flawless, airbrushed finish." This was my first time hearing about this brand but it reminded me a lot of another famous brand known for their mineral products 😉 I put this over my Fenty foundation and it gave it a nice silky look. I don't use setting powders but I really liked how it absorbed my T-zone oil. I would definitely use this powder again.
Well, there you have all the amazing products inside this month's Good Being box. What are your thoughts? Any favorites? It's hard for me to choose just one but if I had to, it would be the eyelash enhancer or the amber body oil or Lauren B nail polish maybe the night cream or possibly the mineral powder 😉
Good Being provided Inner Bombshell with the July beauty box for free in exchange for our honest review of the box. All opinions are our own. Clicking on the links above will redirect you to the specified brand site.