Unveiling The Fall 2017 Pusheen Subscription Box
OMG if you ever want to see a collection of unique and adorable Pusheen merchandise then you have to become a Pusheen subscription box member. Every season you will be pleasantly surprised with around eight+ amazing items that you won't be able to find anywhere else. I am definitely an animal lover but above all, a cat lover and this box is a win every time! For the fall box, members were uniquely surprised with what I think is the first ever soft Pusheen plush which is truly adorable and quickly stolen by my youngest child.
My favorite of all the items is the shower bath mat. It is so adorable and makes me want to quickly create a Pusheen theme bathroom for my girls! They even included a shower curtain but unfortunately, I have no use for it as I had sliding bathtub doors. But the moment we have a use for it, I will proudly showcase it!
Another cute item is the pillow cover (although it came extremely wrinkled) is one of a kind with an outer border lining filled with hanging pom poms. So cute!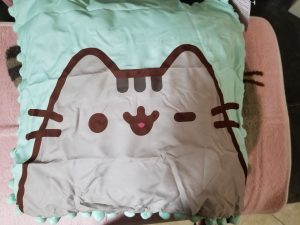 There is also this mini size pancake pan which will have much use during those holiday mornings.
The cute stationary items included an exclusive Pusheen topper pen with a thin gel point in black ink and an adorable notepad.
My least favorite item has to be the crewneck sweatshirt but not because it is cheaply made but rather because it looks like a sleeping shirt on me. I get the XS merchandise but unfortunately, it is not made to look good on my frame. It is still super cute with fun fall prints but I will only wear it in the comfort of my home.
Every Pusheen box usually has a vinyl figure to complement the season and for this fall 2017, we have the adorable Toadstool Pusheen. Just looking at it makes me smile. This was a really cute fall box and it is one of those subscription boxes I have thoroughly enjoyed receiving. This is my fifth box and I have to say that I love them all! The little girl in me giggles every time I get the box in the mail. If you love cats and/or Pusheen…give it a try and it will make you will smile too!
To learn more click here :  Pusheen Subscription Box