It's that time of the month, we gain ten pounds overnight, our skin breaks out, we are moody, our stomach hurts and our skin looks…horrible! Why? Why must we succumb to such harsh conditions every single month! Yes, as women we are the better gender but it comes with a price, our period. The symptoms are similar yet different for all of us but one this is for sure, you will have a break out here and there and our skin just looks blah! Until now, we just had to deal with it. Deal with the hormonal changes and appearance. Wait it out a week or so until we look and act like ourselves again. But now there is hope and its name is Knours.
Imagine a skin care line that is customized for you according to your menstrual cycle. "As hormone levels fluctuate throughout the four phases of a woman's cycle, the effects on skin are typically the most visible. Knours. ensures balanced, clear and glowing skin, eliminating common hormonal symptoms." I know what you are thinking because I thought it too, how is this possible and why hasn't anyone ever thought about it before? I can't answer the latter part of the question but I could go into a little detail about the first half. Since Knours was created in collaboration with dermatologists, herbalists, beauty creators, and tech experts, they took into consideration every aspect of the hormonal phases a woman endures throughout the month. Hence, they created specific products that are recommended to be used throughout those different phases…genius! I know!
I tested out three particular products for two weeks (the week before and during my menstrual cycle).
Your Only Cleanser

–

Imagine an oil-based cleanser that turns into foam cleanser. At first, I was a little surprise that it was oil based (I'm usually not a fan because it feels sticky and greasy) but then I was pleasantly surprised. The oil cleansed and removed all the makeup from my face while the foam actually felt like I was using a soap-like product. It was like using two products in one; a makeup remover and a cleanser. I was really excited about this discovery and will definitely be using it as part of my skincare semi-monthly routine.
Sweet Enough Rescue Mask –
I loved this mask! The serum was thick and felt so refreshing on my skin. The mask does contain honey extract (so it may not be suitable for all vegans) but you can tell that it is made with high-quality ingredients. I had it on my skin for 20 minutes and then I rubbed in the remaining serum. I genuinely woke up with refreshed and vibrant skin! AMAZING!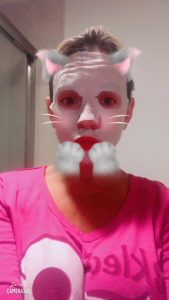 Double Duty Mist Travel Size –
This mist is so intriging to look at. Imagine two layers inside the bottle. The top layer contains jojoba oil and botanical extracts while the bottom layer contains aloe vera water and MultiEx BSASM Plus ®. So you get a layer that moisturizes and nourishes while the other layer calms and soothes the skin. Again, pure genius!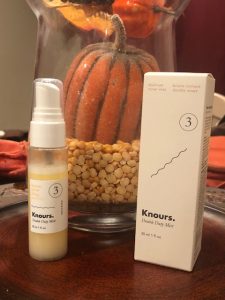 I only have amazing things to say about this innovative skincare brand. They studied our hormonal patterns and created skincare products to help us through those changes. I am truly glad I discovered them and I can assure you that you will feel the same way. Give Knours a try and tell us what you think. Check them out at KNOURS
Knours provided Inner Bombshell with products for our honest review. All opinions are our own. Clicking on the link above will redirect you to Knours website.