Why should we have all the fun and our four-legged babies miss out? Not anymore. KitNipBox brings your babies healthy treats, toys and other fun products. You have three subscription plans to choose from:
Happy Cat KitNipBox

– $19.99 per month. (free shipping) This box comes with 5 goodies each month.
Multi-Cat KitNipBox

– $29.99 per month. (free shipping) This box comes with 7 goodies each month.
VIP KitNipBox

– $39.99 per month. (free shipping) This box comes with 10 goodies each month.

Subscriptions renew automatically. You can easily cancel anytime!
*$6.95/KitNipBox shipping applies to Canada.
*$7.95/KitNipBox shipping applies to Australia.

Save 15% off your first box with promo code BOMBSHELL15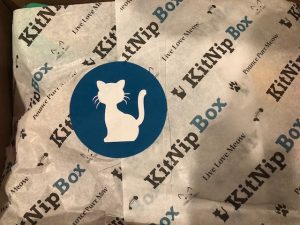 Now on to the goodies inside my box…
all for paws – Caturday Brunch Fish. This little crinkle fish is a highlight in the household. All three of my cats immediately wanted to play with it.
Another toy from all for paws – Caturday Brunch Egg & Bacon. These toys are hilarious. My Great Dane ran to it thinking we had dropped food on the floor. My cats equally enjoy this toy and hide it all over the house.
Safe Made Pet Products – Croissant. This cute furry looking croissant has premium North American catnip which my cats LOVE. I tried to catch a video of all three playing with this product but as soon as my phone came out, they wanted no part of the limelight.
LEAP Pet Products – Dom Purrignon – A super cute Bubbly cat toy with catnip. For some reason, my cats are not too into this toy but my dog is sure having a great time playing with it.
MIX – Pancake Brunch – Another super cute product with a crinkle inside. Only one of my cats enjoys playing with this toy while the other two prefer the other toys.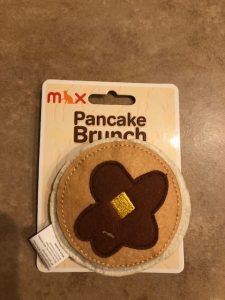 MIX – Tea Party – These toys are definitely a great hit with all three of my cats. They love for us to throw them and they immediately run after it and hide them. It keeps my daughters and the cats busy all day 😉
Tender & True Sustainable Seafood – Whitefish & Potato Recipe – My cats LOVED this seafood and immediately ate it. I am not sure if it was because it was a different flavor or brand from what they are used to but it was gone instantly. I also liked that this brand uses wild-caught whitefish (not farm raised) and it contains no artificial colors, flavors or preservatives.
Champagne Meow & Chandon Petwinery – Rose' – This is a non-alcoholic treat made for our feline babies. It contains filtered water, salmon oil, organic catnip, and organic food coloring. I have not opened this product because I am personally a little apprehensive about these types of animal treats. It is just a personal choice not because I have researched negative side effects. I am sure my cats would love it but I rather not test it out on them.
As you can see this subscription box contained a lot of unique and fun gifts for your feline babies. My cats enjoyed 95% of the products which makes the Multi-Cat Nip Box a bargain at $29.99. To find out more about this box go to KITNIPBOX and remember to use your promo code INNERBOMBSHELL15 to receive 15% off your first box.
KitNipBox is also a unique company in that they support other organizations "KitNipBox supports over 100 animal welfare organizations nationwide. Each month, we donate a portion of our proceeds and products to shelters, rescues, TNR efforts, and a variety of other feline welfare causes. If there is an organization you'd like us to support, please email our team at meow@kitnipbox.com ." This is definitely something to smile about! Any company that gives back, is a company worth your investment. Not only are you giving your cats unique toys and snacks but your also aiding other organizations making a difference in the lives of animals.
KitNipBox provided InnerBombshell with a box for review purposes. All opinions are our own. Clicking on the link above will redirect you to KitNipBox.