During my research for vegan options regarding beauty products and snacks, I came across a subscription box appropriately named: All Around Vegan. I loved that they emphasize "Everything Needed to Support, Promote, and Enhance the Vegan Lifestyle!" You may find a food, lifestyle, bath & body and activism product inside their box. I signed up for their single box $36.95 but they also have month-to-month subscriptions at $34.95, and a few pre-paid options with savings per box. Since I did the single box, I received their February box which featured three food items: Raaka's Specialty Pink Sea Salt Dark Chocolate and two Health Warrior Chia Bars (one is coconut flavor and the second flavor is mango).
The Raaka's chocolate came in a 1.8 oz bar and when I bite into it, I immediately tasted the sea salt. Once I began chewing the bar, the mixture of flavors just burst in my mouth. It is 71% cacao so the chocolate is a bit bitter and has a strong aftertaste. I wouldn't say it is horrible but I have had better vegan chocolates in the past.
The coconut chia bar came in a 25g bar and contains 4g sugar, 3g protein, 4g fiber, 6g fat, 1000mg omega-3 and has 110 calories. The flavor was surprisingly good and chewy, there are chia seeds everywhere. The mango one also came in a 25g bar and contains 5g sugar, 3g protein, 4g fiber, 5g fat, 1100 mg omega-3 and has 100 calories. The taste was just okay, I definitely prefer the coconut one even though I LOVE mangos, this bar just didn't do it for me.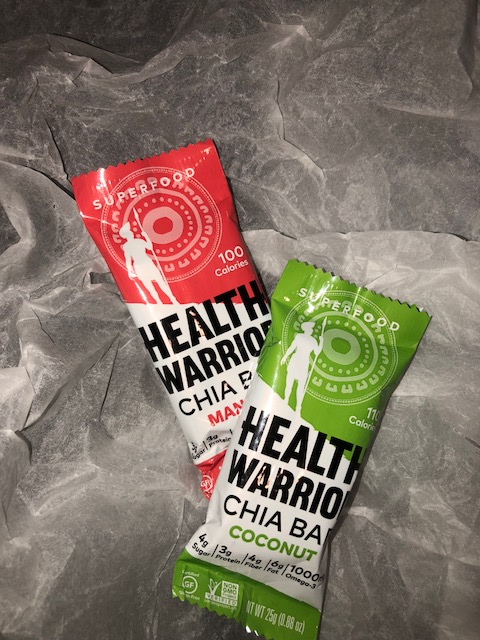 The bath & body item is a full size  8 fl oz tube of Witch Hazel Shampoo by The Grandpa Soup Co. This shampoo smells amazing and lathers very nicely. It left my hair and scalp very clean. I was pleasantly surprised with this item.
The lifestyle item is an Ecobag Produce Bag made from natural cotton (not bleached or treated) and weighs barely anything. Its really cute and will come in very handy while picking some fresh produce at the market. I love the slogan on the tag " Together we are cleaning up the planet one bag at a time."
I also received a surprise item: Angie's Boom Chicka Pop Sweet & Salty Kettle Corn. This is an item you frequently see in a lot of vegan boxes and for good reason.  Let's just say that my daughters didn't even give me a chance to take a picture of the product. They ate it in a matter of three minutes!
My favorite item was the activism item: a black t-shirt asking a very important question. "You are literally not a baby cow, why are you drinking cow's milk?" LOVE IT!!!! I have already worn it to the gym and had a few people trying to read the shirt. Some gave me a smile while others just looked away. Either way, the shirt made them ponder the question. And maybe, just maybe, if people continue to ask themselves these types of questions, the world could become a better place.
Overall perception? If you are vegan or trying to become one, this is a good box to try out. Let me know your thoughts regarding this box and if this is something that interests you.
For more information on this subscription box, please visit https://allaroundvegan.com/
*Clicking on the above link will redirect you to All Around Vegan website. All opinions are our own. No free products or compensation was received in exchange for our review.