Ever since I stopped teaching fitness I fell in love with yoga and meditation. I guess it was because it was the only form of fitness I was never certified in and it allowed my mind to rest and focus rather than be opinionated about the teaching style of the instructor. Since I was not knowledgeable in the field, I had nothing to compare/complain about. I now LOVE yoga and everything that is relevant to it such as jewelry, clothes, socks, sprays, mats, oils and everything else. Therefore, in my quest to be the best yogi I did a lot of research on companies and subscription boxes that provided yoga lovers with unique merchandise. In my quest, I discovered Buddhi Box. I was always intrigued by Buddhi Box whenever I read reviews online because the boxes always featured great vegan, organic and cruelty-free products and brands but I never purchased one until they kindly sent us a box for review.
In this March box I received the following items:
Oiliving Life Protecting Spray 2 oz – $12.00
I love what this product entails – If you want to protect yourself from bad energy or keep your immune system going strong, then this is the spray for you. The scent is extremely potent and reminds me of the "Botanicas" in Miami. It is a mixture of witch hazel, lemon, cinnamon, eucalyptus, tea tree, thyme and more.
Luna Cleansing Spray 4oz and Microfiber Towel – $15
If you are a yoga practitioner then this is a great addition to have. You spray the cleansing spray before and after your class to sanitize and renew the scent of your mat and then wipe it clean with the microfiber towel. The spray is a combination saponified organic oils of coconut, olive, and jojoba blended with rejuvenating essential oils of geranium, bergamot, and rosemary.
ToeSox Casual Socks – $18
These are cute knee high ToeSox made of organic cotton with a shell-like design in blue and white. The shoe size is too big for me and instead of reaching my knees, it goes up to my thighs but it is a gift Opal will definitely enjoy since it more fit for her.
Gaffer and Child Facial Cleanser 2 oz- $24
I was really impressed with this cleanser and how it left my skin feeling. The first thing I do when I get a new product is to read the ingredients. Distilled spring water, sunflower oil, coconut oil, castor oil, olive oil and jojoba oil make up the first 6 ingredients in the product and the remaining ones are as impressive. I really loved this product and will be incorporating it into my beauty routine. This was a great new discovery.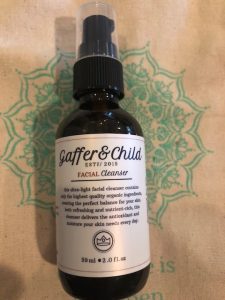 Original Way Smudge – $6
I love me some white sage. Remove negative energies and purify your surroundings with this powerful sage that has been used for centuries dating back to Ancient Greece. The sage bundle also known as the "wand" is burned at the tip and then you direct the smoke throughout your body and home. With the smoke, you remove any negative energies that have entered your space. When doing so, you need to truly believe in the power of the sage and create positive affirmations that the smoke will dissipate any negativity from your life/space. It is very a powerful ritual but you must truly believe in its ability.
BuddhiBox Pocket-sized Notebook – $7
This is a cute little notebook. You have to enjoy writing in small fonts or otherwise, you will fill up the notebook pretty quickly. I loved the mandala logo and motivational phrase, "She turned her cant's into cans and her dreams into plans." Every time I see this little notebook in my purse, it reminds me to stay positive and grateful and allow the universe to guide me down the right path.
BuddhiBox Bonuses
Yoga For You – Yoga Nidra Class – $10
The instructor is Kelly Smith E-RYT 500, YACEP Host – Mindful in Minutes Podcast and Founder of Yoga For You
Lunar Yoga For Women – Yoga, Meditation, Journaling and more – One month free
Online New & Full Moon practices for deep transformation and personal growth.
10% promo code for the Buddhi store
Yoga Pose Cards with Instructions:
Salamba Sirsasana – Supported Headstand
Salabhasana – Grasshopper or Locust
I was really impressed with this box and the products it entailed. The overall worth was $102 and that is not including the month free of Lunar yoga for women which didn't state the cost. For a $30.95 a month, that is a great saving and a really inexpensive way to discover great products. https://buddhiboxes.com/subscribe-yoga/
Buddhi box also offers two additional subscription boxes: BBEO – oils, crystals, sample goodies and meditations for $16.95 a month https://buddhiboxes.com/essential-oils/ or they also offer the Jewelry box $49.95 every 3 months https://buddhiboxes.com/subscribe-jewelry/
Buddhi box sent us this box for review purposes. All opinions are our own.
Clicking on the above links will redirect you to the Buddhi Box website.