This brand new Bath Box by Magickal Earth will provide you with all the necessary items for a practice in "Self-Love." I was so excited when I received the box because the illustration on the box is so fitting for me. I am a wild-cat (or anything cat-related lover) and the cheetah on the box called out to me. From the moment I saw the box with the moon and cheetah, I knew I was going to be in for a pleasant surprise.
Inside the box are the most essential products you will/could ever use for your wellness practice. Let's start with their beautiful introduction card to self-love. "Beautiful Soul, Welcome to your self-love bath box! Curated to nourish your inner well being as well as your glorious physical body. Take time to breathe here. Remember that self-love is a journey. Honor the journey. Throughout your sacred bath, welcome in introspect. This is your time. You deserve it. Enjoy." Just reading their card brought pure joy to my heart.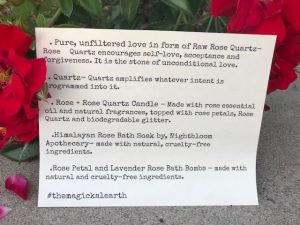 Now, for the exciting items inside the box:
Raw Rose Quartz- I received three beautiful and nice-size raw form rose quartz crystals. This has been the largest crystals I have received from any box that I have reviewed in the past. Love them, they are beautiful and will guide me in my path of "self-love, acceptance, and forgiveness. This is the stone of unconditional love."
Four different size quartz crystals. They are all in their raw form although the smallest of the four has smooth edges. I love quartz because they amplify whatever intent you program into it. Again, nicely sized and beautiful quartz.
A Rose & Rose Quartz Candle. I hadn't read the item description when I open this box, so it was such a nice surprise to see the dried rose petals, glitter, and a small smooth rose quartz crystal inside. It was very beautifully packaged and smells amazing! It is made of rose essential oil and natural fragrances.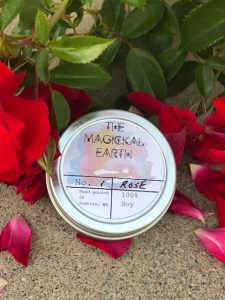 A Rose Petal and Lavender Rose Bath Bombs. They both smell incredible and I honestly can't wait to use them (if only I had a bathtub ;). "They are made with natural and cruelty-free ingredients."
Last but not least, a Himalayan Rose Bath Soak by Nightbloom Apothecary. This is another really exciting product made from Rose buds and Pink Himalayan salt. It comes with its little soak bag and will be a nice addition to your ritual bath soak.
I really have to say that I LOVED all of these items and I think this new Bath Box will be quite the success. Especially since it is only $29.99 a month. You definitely get great quality products and good size crystals…what more can you ask for. Now, I must head off and practice some "Self-Love."
If you want to order your own Bath Box by The Magickal Earth, check them out at The Magickal Earth
The Magickal Earth provided Inner Bombshell with this Bath Box for review purposes only. All opinions are our own. Clicking on the link above will redirect you to their site.